client:
Hawke's Bay Emergency Management Group / Massey University
project:
Ruaumoko's Walk - early childhood digital interactive book
industry:
Civil defence emergency management; early childhood education; promoting Māori language
delivery:
 Online html5 interactive animated storybook
Sept 2020. Updated Sept 2022.
Multi-lingual immersive interactive e-book. Choose your language, choose how you want to experience the story (either read it yourself; have it read to you; or watch like a video), then enjoy and interact to get the full experience and rich content. 
Background:
Phase 1, Printed book, Youtube reading book (2014-2016).
I joined this project team while the initial story was being written. My core contribution was for design and artwork manipulation, finishing with print management.
Rūaumoko's Walk was created by a Hawke's Bay collaboration of mostly government agencies, including Flip Design. Written and designed as a dual language large format storybook for early childhood, to teach children about earthquake and tsunami, as told through traditional Māori oral narrative.
First published in large format print in 2014, then in 2015 reprinted in A4 format and published to youtube as a reading book, with voice-over and basic animation. Winner of a 2015 Māori Language Award for local government.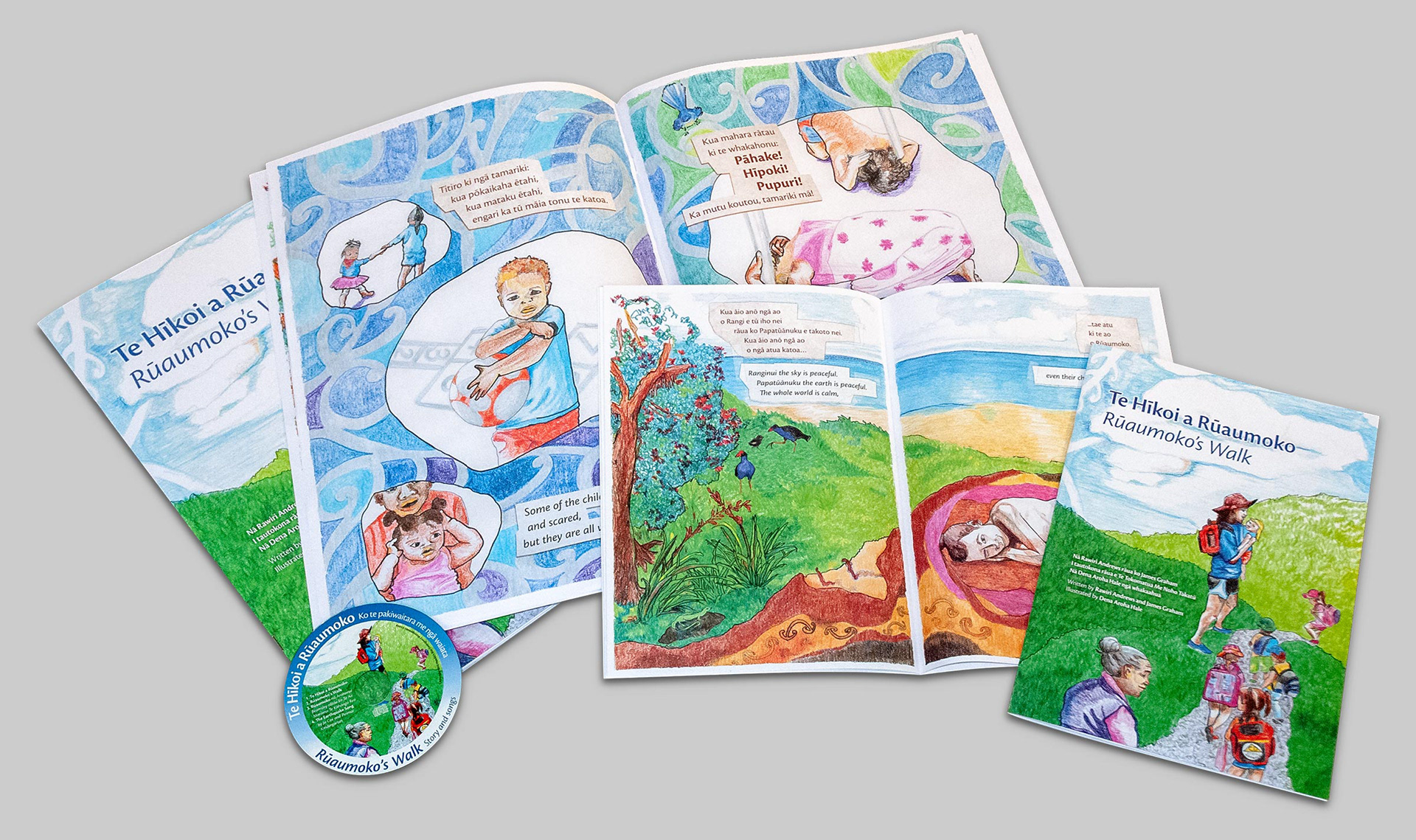 Phase 2, Digital animated book (2019-2020).
In 2019 we commenced further design and development into a fully animated and
interactive digital book
as part of a QuakeCoRE project.
The project team added significantly to the core written content with interactive 'pop-ups' adding further layers of information to the story while maintaining two languages, plus the essence and power of the printed version. 
To animate artwork that was drawn flat on paper with crayons, with no separate layers, starts with creative and planning, involves a huge amount of photoshop manipulation, and clever optimising for maximum efficiency once taken into the animation and html5 production phase.
The result, with a full bespoke soundtrack, audio atmospheres and sound effects, selective animation throughout every page, and development for most online platforms in html5 canvas format, to a lean budget, made this a mighty project.
My involvement was to bring the book to life, from design, further illustration, artwork production and html5 animation, javascript programming, managing sound, to full production and testing. I also reworked the
youtube videos
with the new animation and soundtrack, making them a richer video experience, and allowing viewers with limited bandwidth a better watching experience. 
original authors:
Rawiri Andrews, James Graham
english version authors:
Jae Sutherland, Tryphena Cracknell, Monique Heke
additional content writers:
Hiria Tumoana, Rakei Ngaia, Kate Boersen, Emily Campbell, Yvonne Aranui, Rangihaanu Rolls, Wayne Ormsby, Rachel Schicker, Rawiri Andrews, Jae Sutherland
illustrators:
Dena Bach, Kristi Drain
sound design:
Jonny Pipe Audio
music:
Tom Pierard and Jonny Pipe
javascript & logic:
Peter Diack
, Kristi Drain
design and artwork:
Kristi Drain
animator:
Kristi Drain
producer:
Kristi Drain
voices:
Rawiri Andrews, Yvonne Aranui
waiata:
Yvonne Aranui
children's voices:
Room 7 of Port Ahuriri School
project management:
Emily Campbell
Phase 3, Multilingual, additional 5 languages in printed book and animated videos (2022).
New Zealand is increasingly more multi-cultural. Many families speak more than one language and may not speak English at home. Effective disaster management messaging should be tailored to the population and community it is intended for.
This phase of the project, starting in 2021 was to translate the original bilingual story into five additional languages identified as most in need of this resource in New Zealand. Each printed book is bilingual, coupled with English, enabling the wider community to understand the key messages and develop their resilience to earthquake and tsunami risk. It also provides an opportunity for intergenerational learning at home, or community settings.
Thanks to Covid 19 lockdowns and community vaccination drives, plus multiple national emergency management incidents requiring our HBCDEM resources, the community engagement and subsequent writing process was delayed, but with perseverance we got there in the end.
My principle involvement was project management - coordinating community lead teams for each language to write, edit and proof; followed by artwork production and print production; then onto managing local voice talent and recording and editing the animated versions.